RM350 Training Blog using British Cycling Inter Sportive Program – Week 1
Week 1
Day 1
Rest day, result! I can't remember the last time I started a routine with some feet-up and cake.  Did me a favour really as my knee is sore from yesterdays mega walk with Eric; probably the sand?  Been icing it tonight and it feels better and now looks like a wedding cake… I thank you!
In the gym this morning doing some Crossfit type exercises so not really a rest day.  Need to schedule a threshold test for this week so will probably do it tomorrow night.  Will use the turbo trainer but not looking forward to it as the turbo bores me stupid; I think some episodes of Family Guy are a must.  Gym tomorrow morning at half past six thirty, thank god the sessions are short and sweet.
Need to start thinking more about my diet (which isn't bad) now the work rate is going to ramp up.  Come on British Cycling, where are the recipes and dietary advice in the Insight Zone?
Laters.
Day 2
Cross Training day (not cross dressing…damn!).  My knee was still a bit sore this morning so I didn't do any leg exercises, again focusing on the short but intense Crossfit type exercises.   This morning was As Many Reps As Possible (AMRAP) in 15 minutes of 250m row and 25 press-ups (or push-ups for our A-meri-can friends). Sounds easy but believe me; it is surprisingly cheeky when arm fatigue sets in. Trying to avoid face planting into the mat on the way down is always an issue.
Day 3
At last a riding day!  Wednesdays are always Dorset Rough Riders (DRR) day so I intend to swap the Wednesday and Sunday rides around.  The DRR's ride pretty much every day of the week, somewhere, and why not; we're spoilt with a great variety of countryside in Dorset.  The Wednesday evening ride is either the Wobble or Wibble depending on start location.  I opted for the Wobble as it starts not far away from home.  There are typically 2-3 groups, depending on how many turn up, with the groups divided into easy, medium and hard.

I joined a medium paced group for tonight's ride that took us out to Holt Health and involved some single track, plenty of muddy puddles, some technical stuff in the trees and some road riding.  I'm having some computer issues so don't know how far we rode, but it lasted 2hrs 30mins. My guess is we covered around 20 miles ish.
The pace turned out to be on the slower side of medium so my heart rate only really raised significantly on the steeper climbs, which are always good for a bit of heavy breathing – in through the nose, out through the ar..!
All in all, a good ride with no issues.  A nice wet (cup of tea) while I cleaned the bike and a nice hot shower with some stretching and I'm now nodding off and in danger of getting whiplash.
'Till tomorrow my pedigree chumzzzzzzzzzzzzzzzzzzzzzz.
Day 4
Crossfit type exercises – three rounds for time of; 400m row, 12kg kettlebell swing x 12 reps followed by 60kg deadlifts x 12 reps.
Day 5
Rest day today (the one I should have had yesterday).
Day 6
Don't tell anyone, but events conspired against me today and I just plain ran out of time to get any kind of ride in.  I was supposed to do the threshold test but failed.  Rubbish!  I took myself around the back and gave myself a good kicking.
Day 7
Wiggle Purbeck Hill-A-Saurus today that was around the Purbecks in Dorset and, erm, hilly.  I guess the clue is in the name.  I was hoping I could make up for not riding yesterday but the program suggests a ride just like the Hill-A-Saurus for day 7 so I am still behind with the program and still need to do the threshold test; I need to pull my finger out.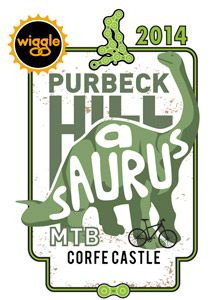 The ride was challenging, muddy, sandy, picturesque (despite being cloudy) and hilly, very hilly.  I should of known what to expect being a local and having ridden parts of the route before, however!
The start and finish were in a campsite near Herston Halt, a stop on the heritage Swanage Steam Railway. A quick look at the route map told us there wouldn't be a chance to do a "sportive warm-up" as per the British Cycling Sportive Training Plan.  The grid lines showed that from the start the climb was going to be very steep to the top of the Purbeck Hills.  It didn't disappoint, with most people having to get off and walk at some point so their hearts and lungs didn't explode.  "Try to keep in the lower zones on the climbs" the training program said which I managed, but only by getting off and walking too.  Heavy breathing was an understatement; yet again, in through the nose, out through the bottom.
From the top there was a great downhill section where full suspension bikes really excel.  A small section of road led to another, slightly less steep climb, onto Ballard Down and onwards towards Old Harry Rocks.  I had opted to go for a Gold time, so this was a great opportunity to make up some time.  From Old Harry Rocks we headed to Studland village then onto Rempstone, which is all reasonably flat.
Rempstone is a real mix of ubér muddy sections and soft sand, so going was tough even without the hills.  There is always an opportunity to laugh at someone else's misfortune and today was no exception.  Near the golf course, a guy rode over a bridge into a big puddle (Frank's Tank) that was deeper then he had anticipated.  His front wheel dug in, stopped dead and he face planted straight into the very muddy puddle.  Even he laughed about it so I didn't feel quite so bad.
Unfortunately, it was also on Rempstone that another fella crashed very heavily in front of me in soft sand.  He took a sufficient enough whack to the melon to split his helmet in two places, badly bruise his right eye, wind himself and hurt his shoulder.  A couple of us stopped to help him, straighten his bike and make sure he was ok, which, he said he was.  I see from the rider times he finished the ride so, good effort Alan (1963), most people would have gone home for an early bath after a crash like that.  Hopefully you don't feel too sore or any ill affects tomorrow.
A quick stop at the Norden feed station to alert the staff of Alan's crash, and it was back into the woods towards East Creech.  This was by far the muddiest section where at one point and approaching a bridge, I stopped dead.  Literally! I was sat on the bike; feet still clipped in and perfectly propped up by the deep mud.  I hope the tracks don't take too long to recover.
Eventually we popped out onto Furzebrook Road and headed up the hill towards West Hill.  Local riders call this Little Creech and I can tell you, it is easier on a MTB than a road bike.  At the top it was back into off-road mode for another climb up West Hill before dropping off the south side and back to the base of the beautiful Corfe Castle.
The downhill bits are always a welcome break, however, what goes down must always go up on these types of ride and we weren't disappointed.  A quick hop around the base of the castle and we were heading up Sandy Hill Lane for the long, slow climb back to the top of the Purbecks overlooking Swanage and our start point.  Eventually we were "allowed" to drop back into the lanes just before our thighs exploded and the county ran out of oxygen, such was the amount being hovered up by the riders.  Always finish on a high as the saying goes, in this case almost literally.  The final sprint was downhill (it actually was, not like my usual lie of "it's all downhill from here lads") and where my 29er came into its own gathering good speed with little input from my weary limbs.
Many of the people I ride with in the local club questioned why I would pay £28 to ride a route I can ride any day of the week for free and it is a good question.  I enjoy the Wiggle rides for a number of reasons: they are extremely well organized and sign posted (as long as local idiots don't tamper with the signs); they are always well supported which creates a good atmosphere; the feed stations are very well stocked; the routes are always challenging and they set Gold, Silver and Bronze times which, even if just for fun, are a good goal to try and achieve.  As an added bonus, although I know it's not really "free", there are always free hot drinks at the end. All in all, an extremely enjoyable day and I would definitely do it again.
Note to self: A curry and two beers the night before are not good preparation for a cheeky ride.
I scrapped the Gold by a gnats chuff in 02:51:21. You nearly made me miss the Gold Alan, shame on you!