RMRIDE350, it was emotional…
I apologise now that this is an epic read, but there is so much to say after such a hoofing 24hrs that it wouldn't be fair to make it short and sweet.
My weekend started Wednesday 30th July when I laid all my kit out in preparation so I knew I wouldn't forget anything.  Some people on social media laughed at my prep.  You laugh away, but admin is not a place in China and I know I wasn't alone.  You can take the boy out of the Royal Marines, but you can't take the Royal Marines out of the boy.  Dug and Kim Hickin, the ride organisers, had included a kit list in the very comprehensive rider instruction.  The instruction was based on experience and a very good guide for what we might need.  I say very comprehensive because every angle seemed to be covered so we were left in no doubt what to do, where to be, with the correct kit and at what time.  This, rather amusingly, turned out to be still not good enough for some.  It seems some think admin actually is a place in China.  More on that a bit later.
Friday night I went through it all again, packed it in the various bags so I had access to my kit at every-other feed station en-route, washed and polished the Bullet, topped myself up with ogin and scran and got my head down for some much needed sleep.
It seemed only minutes later it was Saturday AM, so HQ1 and I got up nice and early to sort Eric the stealth dog out for his weekend at a relatives.  I had one last kit and equipment check, said bye to the dog and we were off.  This was it, nine months of training in all weathers; my social life taking a hit (not that much though, I am the eternal flame – I never go out!); HQ1 having the occasional melt down because we didn't seem to see each other anymore and all the associated bother that goes with training for endurance events had finally come down to right now.  It was time to put the Hong Kong Book of Excuses away, shut up and put up.  I was "I need a massive No2″ nervous.
After the comprehensive rider instruction and numerous updates on Facebook (it's all about comms, plain and simple), I expected a slick set-up at the Royal Marines Museum and that is exactly what we got.  Yet again Dug and Kim, with the help of Donna and her team from the museum, made everything easy peasy for when we arrived.  Easy parking, tick; easy registration, tick; toilets, scran, wets, briefing area, beer tent!!, cafe for family, route maps, kitchen sink, tick tick tick tick tick etc.  I could go on.
By the time we arrived there were loads of riders already parked up and getting their kit ready.  Some had travelled for many miles, one, an old friend of Yeovil days, had travelled from Spain.  Hoofing effort Des.  Armed with our "ya name's not down, you're not coming in" wrist bands identifying us as the endurance lab rats and family, HQ1 and I wandered into the rider area to register.  There were riders and families buzzing around everywhere getting kit ready, eating breakfast, dropping bags off, catching up with old friends and spinning training dits, all the time not too far away were an army of red polo shirt wearing 'Ridemakers' making sure we all got it right.  I registered and collected my RMRIDE350 shirt and at this point I think we all started to realise this was it, it was all now very real.  We grabbed some breakfast and returned to the van to sort out my kit ready for the bag drop; one main bag for Blandford, one 'grab bag' for CTCRM, and dropped them in the collection tent before heading to the rider brief.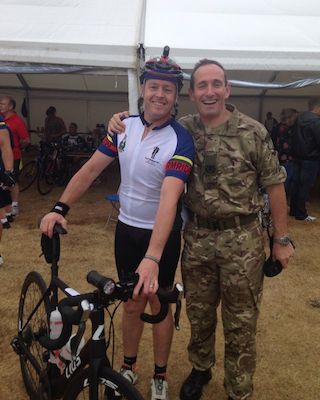 With everyone gathered the brief started at 10:30 sharp.  Dug started his brief and immediately encountered a problem.  In true Bootneck fashion some guys had not read the instruction properly and had therefore not dropped their bags at the tent in time.  The baggage wagon was due to leave before the briefing finished so they made a hasty exit to get all their shit in one sock before they missed the opportunity.  Well, what do you expect?  There were approximately 110 Royal Marines of all ranks gathered in one place with specific instructions to do stuff – it's like herding cats.  It only added to the amusement and atmosphere of the whole event and certainly lightened the mood if anyone was still feeling nervous.
Dug gave a typically thorough and humorous brief while Kim manned the computer simultaneously trying to concentrate on making sure the concurrent activity ran to plan.  Poor Kim must have aged 20 years in two days in her new, albeit temporary, roll as a mum to 110 adolescent Bootnecks and two ladies.  There were also congratulations from the Lt/Col Rich Kenworthy RM (R'td) representing the RMCTF, the charity for which we were all there, and some typically stirring words of encouragement from newly appointed Corps Regimental Sergeant Major (RSM), Phil Gilby.  (For those who don't know, the Corps RSM is the highest appointment a non-commissioned officer in the Royal Marines can achieve and for Royal Marines at least, the Corps RSM is God).
At 11:50 we all formed up in front of the 'Yomper' statue at the museum entrance for the obligatory photo, all wearing our ride shirts.  Families gathered either side of the road to cheer us off and after a countdown the RSM set us off at exactly 12:00, naturally.  As you can imagine, we all looked hoofing.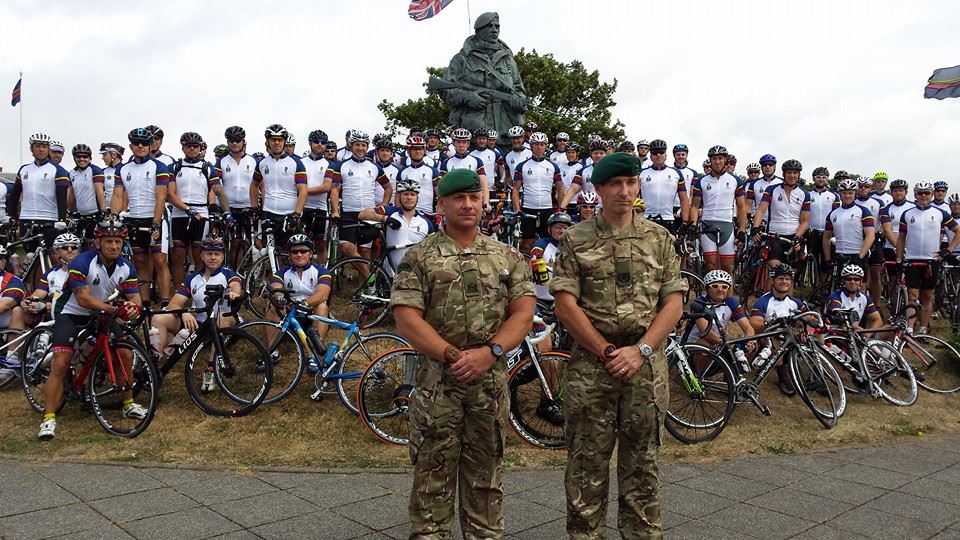 We had a motorcycle escort out of Portsmouth but as predicted it didn't last long with the bunch being broken up by lights and traffic.  It wasn't long before the racing snakes disappeared into the distance leaving the rest of us to split into mini pelotons of similar pace and ability.  The first leg was 32 miles but was almost certainly the worst.  Many riders didn't register the hideous nature of the undulations with fresh legs, but Drinky and I commented that it would be gopping with 300 plus in your legs.  That, having spoken to other riders, turned out to be very accurate.  We had some heavy rain showers, a bit of wind and some sunshine but after what seemed not very long we reached the first feed station at Winchester Barracks.  Spirits were still high and there was still plenty of banter within our group, I was on such a high I plain didn't recognise a friends wife and her sister who were checking everyone in and out of the feed station, and I spoke to them.  Doh!  The novelty had not yet worn off.
While I'm on the subject, the feed stations, the main and intermediate ones, were all manned by volunteer wives and girlfriends / friends and Royal Marines Association (RMA) members.  There was a variety of scran and plenty of it, loads of energy drink supplied by High5 and bags of smiles and words of encouragement from the ridemakers.  They all gave up their weekends, slept in vans or wherever they could and stayed up 'till ridiculous hours just to make sure us riders were taken care of.  They did an absolutely fantastic job and without them it would have been an epic fail.  Huge, huge thanks to everyone who helped, you were hoofing.
Leg 2 was one of the longest at 53 miles but not too hilly compared to leg 1.  I had previously ridden this leg so knew what to expect.  I had latched onto Drinky who had employed a coach to prepare him for the ride and had a very clear plan.  His plan seemed better than mine and as we were already friends I stuck to him in a similar way to those fish that stick to sharks, kind of annoying but not really doing any harm.  As it transpired Drinky was strong and helped me more than he realised.  We managed to form up with another small group and each took our turn at the front while everyone else saved energy behind.  It is amazing how fast you can go when sat in a bunch whilst not expending too much energy, remembering all the time eat, eat ,eat and drink, drink, drink.  We were going well and soon reached Blandford Camp which has a cheeky hill leading up to it that would later bite me in the arse.  I'm not sure what Dug and Kim were thinking when they designed the route, but if it was for 'a route to be remembered' they certainly achieved their aim.  My friends, Phil and Cath and their kids were at the gate banner waving and cheering which was great to see.  Blandford was the key transition point from day to night routine as access to our kit wouldn't next be until CTC, well into the early hours.  Loads of scran, topped up with fluids, stretched our Corps weary backs, stowed our warmers kit for the next leg, visited the heads and we were set to go.  My friends had waited patiently at the gate and were still happily cheering as we set off for Taunton.  The novelty still hadn't worn off.
Leg 3 was fast in sections and the longest at 58 miles.  It was fairly hilly until Yeovil and the miles were starting to kick in with not quite as much banter and a bit more puffing.  The rider train was still going well with some riders stronger than others but everyone taking a turn.  Yeovil to Taunton was pretty flat and for me the quickest yet (downhill aside).  We got up a good pace with a few of the guys putting in immense efforts on the front (Richie, Tom & Drinky)  The weather had cleared up by now and conditions were almost perfect despite the sun starting to get its head down.  My Garmin twatnav had started to play up and kept insisting on trying to get me off route despite me loading all the GPX files for the ride.  Bloody thing tried and succeeded to kill my phone battery too as I had turned on the Live Track function so HQ1 could follow our progress.  In Garmin's defence, I'm sure they didn't design it with 24hr rides in mind and I had just plain forgot to sort out a third party charger.  As we approached the M5 I had a moment that used up at least two lives.  Fiddling with my bottle, I looked down.  At that moment the kerb changed direction and I didn't.  I hit it once and bounced out into the road before rebounding back towards the kerb.  We were doing probably 30 mph at the time.  Luckily for me there was a dropped section so I just rode up onto the pavement and bunny hopped back onto the road, Peter Sagan style.  A quick empty of my nappy and we cracked on.  We eventually reached Taunton and some hot scran, friendly faces and gangs of ridemakers fussing around the riders willing to help.
Leg 4 was a short 38 mile hop to CTCRM and the half way point.  The actual mileage half way was somewhere in between but let's not split hairs.  The temperature had dropped considerably by now so it was beginning to get cold.  We were all very quiet now apart from the occasional "swamp stop" call or odd bit of attempted moral boosting chatter.  I was starting to get tired and started to lag behind on the hills, but not too far as to get dropped so catching up again wasn't too difficult.  This disappointed me as I had ridden further in training so should have managed this distance.  My already buggered 99p knee was now starting to protest very loudly, so when we stopped I grabbed some pain killers and brufen, the pussers' cure all.  I can't speak for the others, but it was also about this time when it dawned on me just how far we had ridden.  We were approaching Exeter for gods sake, I wouldn't normally venture this far on anything without an engine.  To be in a bunch at this time of night with quiet country roads was bliss.  Not too long ago you may remember I tried a night ride and eventually went home because I was so bored on my own with nothing to look at but a white dot on the road in front of me.  Just knowing there were other riders on the course, let alone in front, behind and either side of me, was a huge moral booster.  I knew this leg quite well having lived in Exeter for seven years so it seemed to pass relatively quickly.  At one point one of the guys needed a swamp stop which we duly obliged.  On reflection, right outside the Devon & Cornwall Police HQ wasn't such a great idea.  We got away with it and before we knew it we were at CTCRM and another chance to access our kit.  I had a complete change of dry clothing which made me feel brand new and toastie all over again.  The re-application of handfuls of chamois cream also made my sore man-junk comfortable again.  More scran, a nice cup of tea, dry kit on and light batteries changed and we were ready to go again.  By now the novelty had definitely worn off.
Leg 5 was a 53 mile slog up the A30 and A303 with some weaving in and out of various villages towards the end (for most anyway, but not all) Along this leg two of us bounced through almost identical potholes and sustained punctures.  Again, being in a small group helped as there were plenty of hands to sort the repair.  Those who couldn't help just stood and dished out some shit for slowing everyone down or taking too long – no surprises there then.  Apart from some cheeky climbs on the A30 this leg was quite fast, albeit I was now hanging out and just about able to hang on the back.  My legs had started to feel what I can only describe as sick.  I had nothing in them on the climbs and every time I tried to increase speed or go up a gear I just got a sickly feeling in my stomach.  Very strange and like nothing I had experienced before.  I also started to feel the effects of sleep deprivation with the occasional dizzy spell as if I was about to nod off.  On the whole though, we all agreed we actually felt pretty good as far as lack of sleep was concerned.  At this point I started to question whether Drinky had hit the EPO or had sneaked in a pre-event blood transfusion because he was getting stronger and stronger.  Maybe it had just taken him 200 miles to warm up, but we had to keep slowing him down in order that we all stayed together.  I was feeling guilty by now because the lads were kindly waiting when they had dropped me, despite my insistence on them cracking on as I knew I was slowing them down.  One of the intermediate feed stations had homemade cakes which were awesome and a very welcome break from energy bars.  This was also the only place where we saw the almost mythical flashing route markers.  Rather worryingly there were loads of them on the course so god only knows what planet we were on to only see one.  As they say, "what goes up, must come down" and on one particular section of the A30 we had the longest downhill section of the ride which was fast, scary in the dark, but great fun.  We eventually reached the air station at Yeovilton and by now it was well and truly light. Yet again we were greeted by very smiley ridemakers and stuffed full of hot food and drinks.  Novelty, what effin' novelty.
From this point on we were just riding the reverse of the route out and knew we had some honking legs to complete.  Leg 6 was 'only' 34 miles back to Blandford that started almost immediately with two big, long climbs out of Yeovil then Sherborne.  The tablets I had taken had dulled the numbness in my neck but had done nothing for my knee.  They never have before so I don't know why I expected it to be any different this time.  Anyway, needless to say it was getting harder and harder for me to stay with the bunch and they eventually left me behind, along with Mel who was suffering with a painful hip.  I'm glad they did because knowing I had slowed them enough for their own personal times to suffer was something I didn't want.  They were still going strong on the outside despite what their bodies were saying on the inside and they deserved to make the best of the remainder of the ride.  Jack bastards!  This was now a war of attrition for me as slowly I knocked off the miles just to reach the next feed station.  Two hills from Blandford Camp my legs and knee had had enough and I couldn't even turn the pedals fast enough to climb in my lowest gear, I had to get off and walk, especially the last drag up to the camp that now was biting me in the arse with a vengeance.  I just about swung my leg off the bike before falling flat on my back from my jelly baby legs.  I sat and discussed it with the guys who had carried me round and I knew, as Drinky and I had previously recognised, the hardest bit was yet to come.  I hate to rap on anything, it's a Bootneck thing and not in our nature, but I knew if I had attempted to last two legs it would take me a minimum of eight hours, if I made it at all, so I decided to retire from the event.  It eventually took Drinky and his group approximately 6-7hrs to finish and they were going well.  I was gutted and rang HQ1 to give her the bad news, trying to man-up and not blub through disappointment.  One of the RMA ridemakers kindly found me a bag of frozen fruit salad and this was what nine months of training and grief had boiled down to; I just sat there nursing my 99p knee drinking tea.  Mel had got in ahead of me and had decided to crack on despite being in obvious discomfort.  Fair play big fella, I missed you at the finish so I sincerely hope you made it round.
Luckily for me the mother outlaw was at Blandford to cheer me on and she kindly offered to drive me back to Pompey.  The RMA volunteers were again awesome and took care of my bike until they returned to the museum.  Am I gutted to not finish, yes of course; am I disappointed for those of you who kindly donated, yes most definitely; am I ashamed of myself, a.b.s.o.l.u.t.e.l.y not.  I am extremely happy to have been part of such an awesome once in a lifetime event.  I am grateful for the people I met and the camaraderie everyone displayed, but most of all I am proud to have witnessed Commando Spirit and Ethos oozing out of just about everyone there.  Everyone looked knackered, very very knackered.  Some literally fell off their bikes, some had bandages on their knees and some looked like they could do it again but everyone, to a man / women, had smiles on their faces.
Cheerfulness In The Face of Adversity. Nuff said.
I will do a separate thank you blog for all of you whom have donated.  For now I will just say thanks to: Drinky, Si, Tom, Richie, Mel and Andy for dragging me round and providing some great entertainment; to all the ridemakers who absolutely pulled it out of the bag and made the event great; Donna and her team at the Royal Marines Museum for being so helpful and cheerful to everyone (and keeping the beer tent open when everything else was packing up); to the odd few impatient drivers in Portsmouth who couldn't wait just that few minutes more while we got out of their way, KNOBBERS; and finally to Dug and Kim Hickin who slaved over this for 18 months, gave up personal time at weekends to get it together, fussed over everyone to make sure we were all ok, put together an absolutely hoofing event that was meticulously planned and executed, albeit a gruesome route and finally achieved their aim of getting everyone home safely.  To quote Brian Hanrahan during the 1982 Falklands campaign, "I counted them all out and I counted them all back".  You both were Harry Von Turbo Hoofing but please, never ever speak to me again.
Stand at ease, stand easy.
P.S.  The total raised as of today is edging towards £55,000 of our Great British pounds.  I know Kim and Dug are overwhelmed by this amount as are the rest of us who took part.  Thank you all very, very much for donating.  I am personally humbled by your generosity.