Time for a review of my LIOS Bullet disc…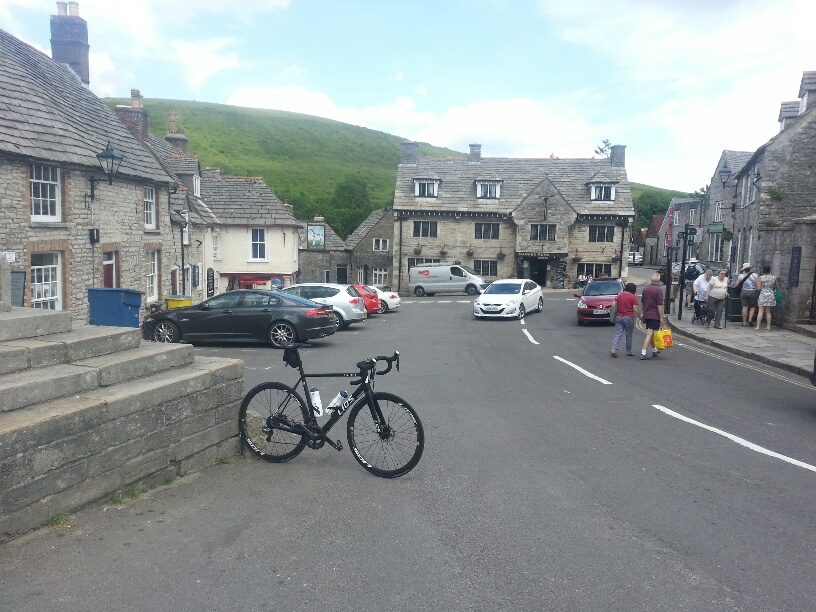 When I was on the hunt for a new bike I very nearly bought a Bianche.  I love Italian styling (I love my Ducati's) and it was the only, and I mean only, bike that looked better in the flesh than in the brochure.  I was then put in touch with Steve at LIOS Bikes Ltd.  If you can't remember or can't be bothered to scroll down the posts, Steve is a former Royal Marine Major who caught up an Improvised Explosive Device (IED) in Afghanistan.  Steve was a keen member of the Royal Navy and Royal Marines Cycling Association (RNRMCA) and raced mountain bikes for the team.  In light of his imminent medical discharge, Steve set-up LIOS Bikes with the assistance of Help4Heroes.  Look him up at www.liosbikes.com
I went to meet Steve who immediately made me feel welcome.  They say you make your mind up about someone within a few seconds and I consider myself a very good judge of character; I liked him instantly and knew, as long as the bikes were up to it, I would buy one.  His bikes are stunning so we discussed the options and it became apparent he had plans to make a Bullet disc brake version.  I'll have one of those then please, simples.
It has been two months since I collected my gorgeous Bullet disc from Steve and I have put very nearly 1000 into it in that time, so I thought a little review would be chipper fine and dandy.
You may remember when I collected it I commented on how comfortable the bike was, well I'm pleased to report it hasn't gotten any worse.  If anything, as my (think Forest Gump) buttocks have moulded to the new saddle, it has got better.  This is entirely down to the attention to detail Steve puts into the bike fit, using both Retul and the Bio Bike to find that sweet spot of comfort to power output ratio.
The build quality is also exceptional with my only criticism being the use of countersunk screws in non countersunk holes for a cable clamp on the fork.  This is just my engineering past being picky, but something I will rectify at some point with some nice appropriate black versions.  As you can see from the picture, the bike is matt black so it will be neat to have all the fittings in matt black too.
Steve's attention to detail also extends to the component set-up.  In all of those miles it hasn't skipped a single beat or needed a "first" free service.  I literally wash it, re-lube the drive train and put it to bed ready for the next outing.
Talking of components, my build included Shimano's Ultegra Di2.  I was initially very sceptical of electronic gears as I couldn't understand why or how they could be that much better than standard.  For all you sceptics out there, try it and if you're not impressed I'll give you your money back.  Sorry, that was the Remington razor.  I am seriously impressed with the effortless shifting and the speed with which it shifts.  I especially like the way the front mech self trims to eliminate chain rub when I've shifted to the lowest gear while still on the big ring at the front.
The brakes can be ferocious, but have a bit of free play which I don't mind.  They are so powerful that a bit of free play allows me to feel for the bite rather than it just coming on and locking the wheel.  As you would expect from discs, they maintain their power even in the wet.  The other big advantage of the discs is I won't wear out the rims on the similarly stylish carbon wheels, so they should last for years.  Being deep rimmed wheels they do get caught by the wind on occasion.  Here I have two options, buy a set of Mavic ally wheels for normal riding/training or man-up and just get a grip of the bars.  I'll take the man-up option please.  The wheels also come with Continental's excellent GP4000 tyres that have gripped the road like snot to a moustache.
The only thing that has caught me out on this bike is the front wheel/brake combo.  Because all the weight is on one side, when stopped the wheel has a tendency to swing left.  I have fallen over twice when it has done this when I haven't been stood or balanced correctly.  Note to self, stop being such a muppet.
As you might have gathered, overall I really can't fault this bike and it continues to perform.  It is stiff enough to climb well with a bulky buffoon at the helm, yet is light enough to descend better than my riding peers; I recently hit 42.9mph in North Dorset without a single pedal being turned.  Yes Steve markets himself as the Aston Martin of the bicycle world and yes, they aren't cheap, but if you are in the market for a new race bike you really, really should try LIOS Bikes, I bet you won't be disappointed.