This is our boy Eric.  He is by far the coolest member of the Commando household.  Eric got up with me at 'alf past five firty this morning although, by the look of his putty head, he didn't have a clue where he was or what time it was.  He just sat and stared at me with that "what the chuffin' hell is going on" look on his face while I went about my business getting ready for todays ride.  As it was too early for his breakkie and he declined the invitation to go outside, I carried him back up to bed with HQ1 where he settled back down into a snoring competition with half women, half mattress.  Yes, he sleeps on the bed and yes we tried to break the habit, but he was stronger than us so here we are.  Get over it.
Moving on.  Safe in the knowledge I was now free to go and get my bike I wondered up to the garage, positioned the bike out on the front porch and put my shoes on.  All rigged and ready to go, I locked the back door behind me and went to step out of the front door when I heard a bark that didn't sound like it was from upstairs.  I looked round to see stealth dog sitting at the back door wanting to come in.  How he sneaked past me and into the garden without being seen is quite impressive, so if anyone out there wants to hire Eric for covert surveillance missions please let me know.
So, todays ride – Test and Adjust.  In the absence of a computer on the Bullet at the moment (it's in the post, thanks Steve at www.liosbikes.co.uk) I have been riding on heart rate (HR) and cadence feel.  With me previously only being used to riding a maximum of 100 miles, this has resulted in riding too hard and my legs tiring too early.  With that in mind and with my virtual training partner, DK OBE, sat on my shoulder I used today to maintain a HR of under 140bpm to see how far I could get and at what average speed.  The end result was 106.6 miles in 7hrs 13mins at an average of 14.8mph.  That all looks great on paper but the reality is the 7hrs 13mins is just the moving time; I was out for very nearly 9hrs.  I'm not particularly happy with that although I did stop too long on the first loop.  Riding a loop (as recommended by the ride organiser) does help a lot, as there is always enough food and drink available which plays a big part.  However, in the best traditions of every good debrief, always end on a high.  So on the upside and a huge plus, my legs felt a lot better.  Sat on the train now though with no time to stretch, they don't.
So what does that tell me?  When the Garmin twatnav arrives I can more accurately gauge my speed and will try to up the average by 1mph and see what happens.  I know 350 miles in 24hrs is a very tall order, but I will continue to train for that target in order to get as close to it as possible.
Dorset was beautiful today with views as far as the eye could see from the high ground.  It was too hot for me but I'm not complaining, it's nice for the sun to be out and see everyone making the most of it.  Corfe Castle never fails to disappoint in the "picturesque places to stop for coffee" stakes and today was no different.  My bike also attracted some interest from a German tourist on holiday with his family.  I fed him my best sales pitch (do I get commission Steve?) and he promised to look LIOS Bikes up on the intertinterwebworldwidemess.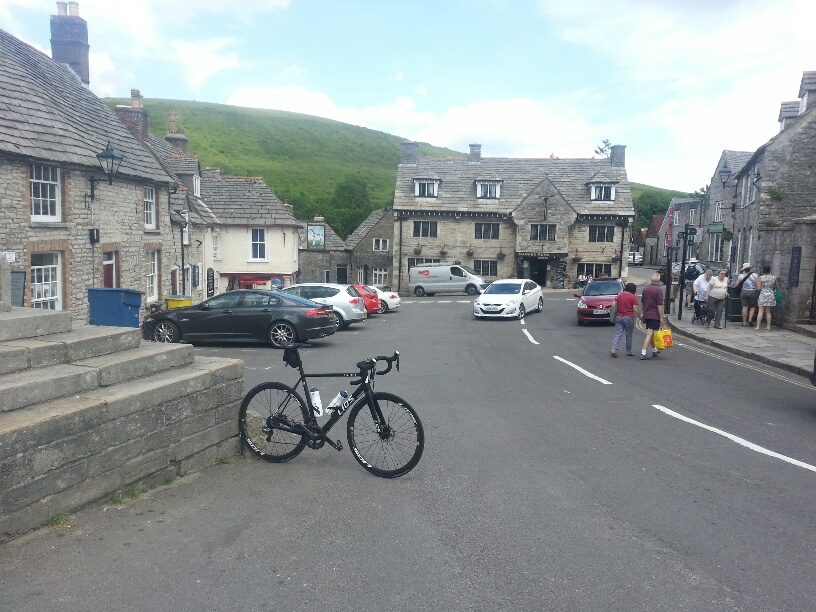 The spotters were out in force for the Swanage steam railway too.  Apparently the choo choo had steamed all the way from London and they were lined up on a bridge to get a phot.  A stunning phot it would have been too with the train coming towards them and Corfe Castle in the background, except, one individual decided to be Jack and position himself smack bang in everyone else's shot; you'll just have to learn how to use Photoshop fellas.
Wednesday's DRR ride was the Wobble for a change.  The club have rightly decided to start putting on regular beginners rides with easier routes, led each week by us committee members on a rota.  So in order to learn the route (thanks Steve and Daz for picking it) we descended mob handed on the Wobble to join the new/returning after a long break riders.  It was a good little ride so more of the same next week.
I would like to finish this weeks rambling with some thanks to a few people: firstly work, for allowing me today off to get some miles in and secondly to all of you who have donated money so far; you are my inspiration and motivation so big thanks to: Adam, Frank, Mark, Andy, Col, Nick, Jackie and a handful of secret agents.