Shame on you Isle of Wight authorities, well done Macmillan…
This weekends rides were the only two I had paid for this year, apart from the RMRIDE350, so I was looking forward to both.  As a huge bonus, the intended distances meant, hopefully, by the end of Sunday I would have cracked 200 miles.
The plan didn't survive first contact with the enemy, as usual, when work informed me I was deploying at the weekend.  Doh!  It wasn't all bad news though as it wasn't going to be until Sunday, so Saturdays Wiggle Wight Ferry sportive was still on.  I had entered the standard route which was meant to be 73 miles but turned out to be 81.9, according to Strava anyway.
The ride started and finished in Fawley village in the New Forest, with the first 10 miles being to the Lymington ferry, passing through gorgeous Beaulieu village en-route.  UK Cycling Events (UKCE), the event arm of Wiggle, had coordinated specific ferries to take the riders across to Yarmouth on the Isle of Wight (I.O.W) and it worked very well.  It meant ones personal admin had to be on the ball in order to check in for the ride, get changed and get to the ferry terminal to catch ones allotted time.  It was made very clear that if you missed your slot, you couldn't get another.  I'm not sure how strictly UKCE adhered to this rule but needless to say, some people missed theirs.  Admin fellas, it's not a place in China.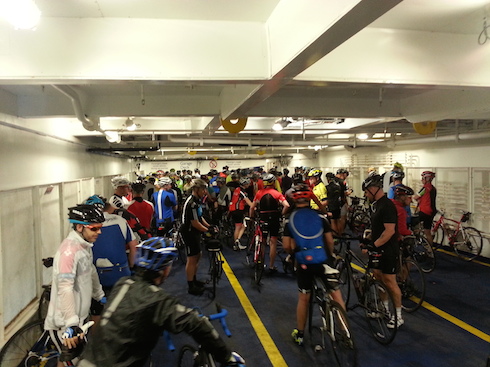 One thing that was almost immediately apparent was the strong South Westerly we were cycling into.  I thought it would be a problem once we hit the south side of the island so I wasn't looking forward to it.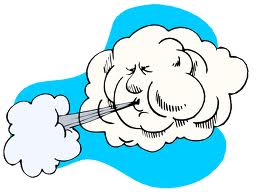 The ride from the other side followed a predominantly clockwise course I wasn't familiar with as it headed inland towards Newport.  It turned out to be rather cheeky with a pretty decent climb out of Newport.  What made it worse was you could see it coming.  Many of the more traditional cycle route climbs are hidden amongst residential areas, so you don't know they are there until you hit them.  Unfortunately, the route didn't bypass Ventnor with its honking ascent out of the town.  It is my least favourite of all the climbs.
As it turned out, the wind didn't seem to behave and was in my face when I least expected it.  However, particularly on the south side, when I expected it to be bad it wasn't, with me being able to crack on at a decent speed albeit tucked into the drops, head down.
Rather surprisingly before I knew it I was back at the ferry.  Once again we were ushered into a feed station to wait for the next available ferry which ended up being a good 45 mins.  That was my queue to top up my zed tank; if in doubt Royal, crash out.  The routine back was an exact reversal of the route over and was pretty slick.
In total Strava says I managed 81.9 miles at an average of 17.1mph.  I was very surprised at this due to the wind but who am I to argue with GPS technology.  When I got home I bagged an extra 7.9 miles just to bump the mileage up towards the 200 mark.
The only sore point with the whole ride was the appalling road surfaces.  It would seem the I.O.W authorities have pretty much slashed all road spend from their budget.  The roads were the worst I have cycled in this country and made me feel like I was in Africa.  Not nice and not a good way to encourage cycling on the otherwise excellent route(s).
The Macmillan Dorset Bike Ride
And so to the Macmillan Dorset Bike Ride on Sunday 7th.  I try and do this ride every year and for me this year it was to be the 100 mile route which I was attempting with Leon and Paul.  We had already decided that rather than do what we usually do (go out way too fast), we would ease into it and finish strongly.
This is a very well established ride now and the set-up shows.  Registration is smooth and quick and within a few minuets of arrival (and after a bit of faffing) we were ready to head out. The pace is always steady to start because of the narrow roads and volume of riders trying to squeeze through them.  Once we hit Wimborne, and the back lanes to Blandford, it became harder to ease back on the pace.  This is where everyone is trying to settle into a rhythm whilst at the same time trying not to be the last man on the road, or that section at least, so it's a bit like a mini race.  We made it to Blandford and the first feed station in good time after reigning ourselves in a couple of times.  There was still a steady queue behind us though, happy to sit there and let the three of us do all the work.  I bumped into a friend (Gi Jane) at the feed station who was riding with her dad (GI Joe) and they both looked on good form.  They were only!! doing the 60 mile route though the lightweights.
From Blandford the route has changed (I think) from previous years.  Instead of doing a couple of loops of Bulbarrow, the highest point in Dorset apparently, the route headed straight out to Oakford Fitzpaine and the pretty villages of North Dorzet.  This meant all the honking climbs would be 3/4 of the way through, which turned out to be not as bad as anticipated.  One thing about this ride is there are a good scattering of feed stations manned (and womanned) by local volunteers which is very welcome.  Thanks to all those people for giving up your day to keep us riders fed and watered.
Eventually, after a non eventful jolly around North Dorzet, we reached Ansty and the start of the climbing.  The first loop took us up a small ish hill before a really decent descent into the beautiful village of Milton Abbas.  The descent hopefully brought the average up as I hit 42.9mph at one point, passing my friend and her dad who were going well.  My LIOS Bullet really was a bullet.  There is a nasty little climb out of Milton Abbas so we decided to stop at the feed station for a quick stretch, some limers and a slack handful of Jammie Dodgers, oh yes!  The Jammie Dodgers prompted some barracking from GI Jane who stayed strong and bypassed the station; you missed out girl, you missed out.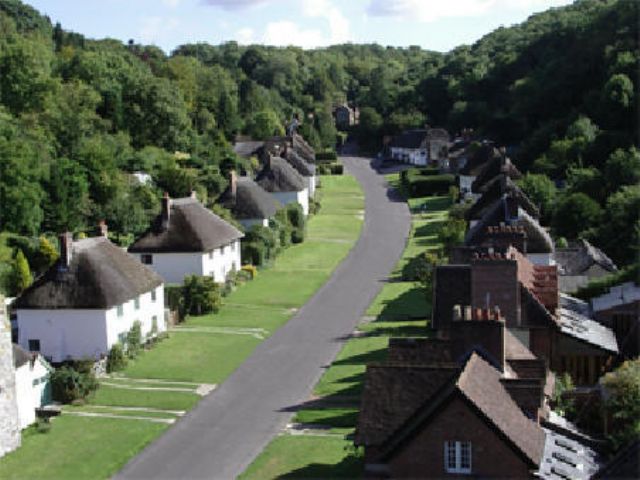 After the nasty little climb we descended into Winterborne Whitechurch before heading back to begin the climb up to Bulbarrow.  Despite being a long drag, personally I don't mind it because it is gradual, unlike the horrible climb out of the Cheselbourne – Dewlish – Cheselbourne loop that followed it.  With that in the bag and a quick cup of tea from the lovely ladies in Cheselbourne, I lolloped up the Milton Abbas beasting knoll for the last time.
From there it is pretty much a flat (ish) run back to Corfe Mullen with only Lytchett Matravers to climb which after the previous ones wasn't too bad.  The guys were strong and picked up the pace on this leg.  I was surprised when we were cracking on at 22-24mph and grateful for the tow.
Overall I know I slowed the boys down but we still turned in a respectable average and all made it round.  I know they hadn't done a previous days riding however, leon and Paul were immense and got me round where a solo effort would have been a true "state of mind".
I can't post my own results because I didn't use Strava and it was twenty miles before I realised I had forgotten to start my Garmin however, Leon's says:  total mileage 100.9 (he didn't count the 2 mile ride to and from the start) with an average speed of 15.5mph.
After a cold bath for the legs, some serious stretching and some scran I eventually slept like a baby (no I don't mean I woke up every two hours with a boob in my mouth and a nappy full of unpleasantness).
Thanks for reading, see you next time…